No matter what size your backyard pool is, there are always ways to upgrade your pool by adding exciting new features. There are many different options to enhance the beauty and fun of your pool so, in this post, we'd like to recommend our five favorite water features to level up your backyard pool with. 
Be sure to check out our gallery for even more inspiration. If you see an exciting feature you would like to implement into your own pool, Rock Custom Pools is here to make even your wildest pool dreams come true. Once you're ready to take the plunge, make sure to contact us and receive your free estimate.
1.   Water Slides Are Fun For Everyone
Water slides are one of our favorite additions to install in backyard pools because we know that that pool is going to get plenty of use. When your pool has a waterslide, it just begs everyone who sees it to go throw on their bathing suit and slide into a good time. Kids and adults alike love the thrill of sliding down a slick slide and splashing into a pool with their friends. Adding a slide to your pool is one of the best ways to guarantee your friends and family will never miss another backyard bbq or party hosted at your house.
2.   Basketball Hoop
Even if you're not a great athlete, adding a hoop to your pool is an excellent way to add endless fun to your backyard pool parties. What better way to encourage people to hop into the pool than by challenging them to a friendly game of 2v2? It's also a great way to keep the kids busy while you get some yard work done, or even while you have a nice chat with your friends. 
3.   Add a Custom Hot Tub
Adding a custom hot tub is one of the best ways to make your pool more visually dynamic while also adding a tremendous amount of utility. By having a hot tub, you can ensure your pool will continue to get used well into the winter months. A common trend is to also add a waterfall so that water flows out of your hot tub and into the rest of your pool. This is a great way to keep your pool at a nice temperature so that everyone has a good time no matter which pool they decide to use. 
4.   Beautiful Waterfalls
If a hot tub waterfall is not for you, you can also add custom waterfalls to give your pool a more natural look. Adding custom waterfalls is a great way to give your backyard pool a sense of elegance and natural beauty. We've even seen some pools that use waterfalls and custom rock walls to make the pool look like it is a completely natural body of water. 
5.   Multi-Level Pools 
One of the most dramatic pool designs we've seen is when you have more than one pool with waterfalls connecting the two bodies of water. What a beautiful way to transform your backyard into a truly spectacular bit of eye candy while also adding a ton of value to your home. 
6.   Pool Floor Designs
If you're looking for a less dramatic way to make your backyard pool stand out from the rest, you can always add some fun custom designs to the floor of your pool. Check out this example where we got to add some cute turtles leading you into this elegantly simple pool.
7.   Fire Bowls
Fire bowls use natural gas lines to add some serious accents to your backyard pool. Fire bowls go great with many different styles and can help add fun light accents to your yard for when you want to spend time outside after the sun has gone down. They are also a great way to keep warm in the colder months.
8.   "Swim-Up" Lounge Area
Sometimes you don't want to get completely submerged in your backyard pool and are just looking for a way to cool off in the hot Georgia sun. One way to do this is with an inflatable pool mat, but those can sometimes result in losing your balance and falling in, or bumping your head into the edge of the pool in the middle of your nap. A better way to achieve this is by adding a shallow area of your pool and putting a comfy waterproof chaise lounge half-submerged in the water. Now you can get a nice tan, while also staying cool. These areas are also a great way to give young ones a place to play in the pool without going over their head. Although, without walls, we suggest you stay near your children as they can still wander into the deeper areas of the pool. 
9.   Fountain Bubblers
These little guys are small fountains that are placed beneath the water's surface to create small geysers of water on the surface. They are great additions to shallow sections of your backyard pool. Younger children especially love playing in the small bubbler jets. It's also a nice way to add a little bit of a flair to your pool.
10.  "Infinity Pool" Edge Waterfall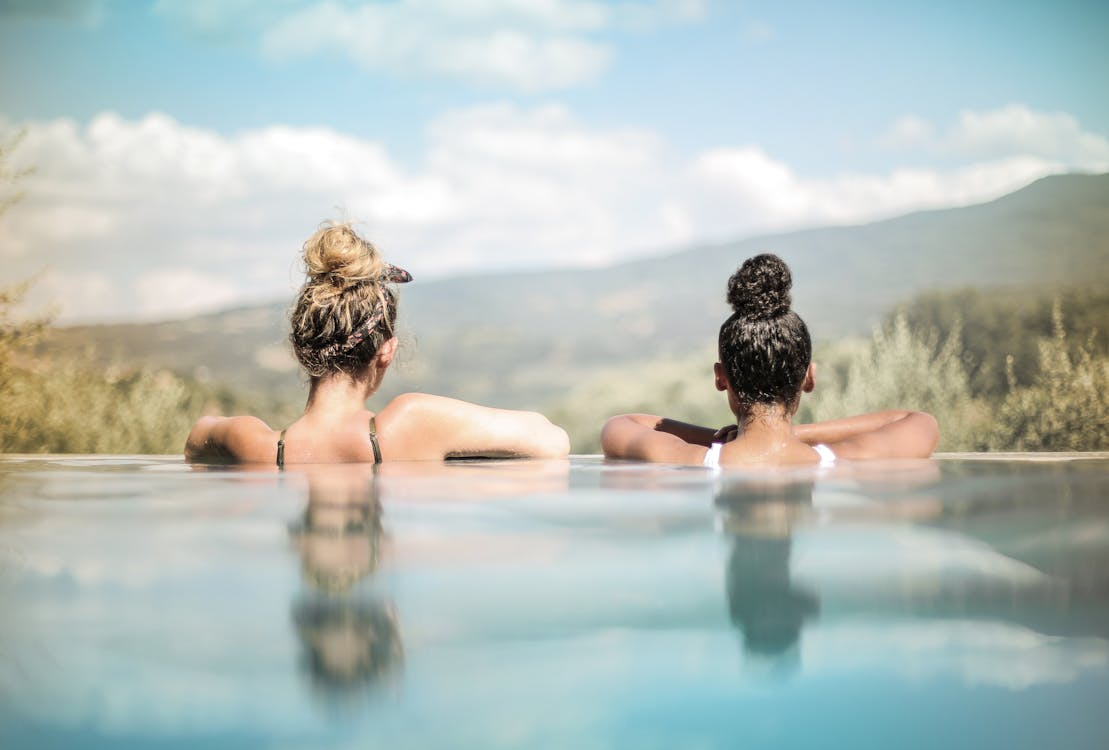 Infinity pools are pools where the water falls over one edge of the pool. By having a waterfall in place of a wall, it gives the illusion that the water just keeps going on past the edge and is a truly stunning feature to add to your backyard pool. 
Rock Custom Pools Can Install All These and More!
If you saw a feature in this post that you think could go well with your backyard pool, or if you are planning to build a new pool and would like to implement these features or others into your pool design, make sure you contact Rock Custom Pools today. We have been helping Georgia homeowners in Conyers and the surrounding area build beautiful custom pools for over 40 years and we can't wait to help you make your dream pool a reality!